Arabia's new In the Mountains Moomin mug illustrates Moomintroll who asks for advice from Snufkin. The limited-edition mug, created exclusively for the Norwegian market, is available internationally only on the Official Moomin web shops.
The mug will be available from August 16th, 2021 but you can already sign up for a notification on the website. The mug will be available until the end of the year or as long as stock lasts.
Snufkin comforts Moomintroll
The illustrations of the In the Mountains mug are based on Tove Jansson's comic strip story Conscientious Moomin from 1958 and Moomin Begins a New Life from 1956. In the illustration of the mug, elements resembling Norwegian landscapes, such as mountains and fjords, have been consciously sought. However, such landscapes can also be found in the Moominvalley, which has a very diverse nature. The In the Mountains mug illustrates Moomintroll who has gone into the mountains with Snufkin. Moomintroll needs advice: everyone around him has turned strange or busy, except Snufkin, who comforts Moomintroll. 

Moominmamma decides to spend a day on her own in peace and quiet without worries or having to care for anyone. Moominmamma bathes in warm water and enjoys herself. The family, however, starts to miss Moominmamma in the midst of the chaos and they start looking for her. At first, Moominmamma refuses to return home because she also wants to live freely. Eventually, she returns to her family.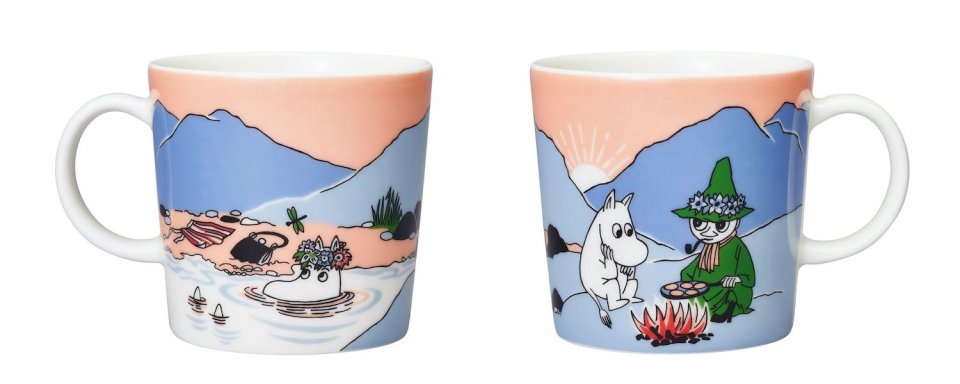 Supporting children's rights and equality
Tove Jansson's Moomin stories have addressed many socially important issues such as loneliness, diversity and well-being over the years. The stories are easy to relate to, and they offer new perspectives for both children and adults. The Moomin by Arabia special mug In the Mountains illustrates a comforting scene: Moomintroll turning to his friend Snufkin for advice.
In 2021, Fiskars will donate NOK 10 for every mug sold to the local Save the Children association in Norway. The aim of the campaign is to support children's rights and equality, highlighting friendship and well-being in particular.